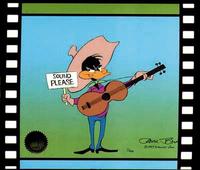 Daffy Duck Art

Chuck Jones (1912-2002) began his 60 year career at Warner Brothers in 1934. Chuck Jones helped to bring to life many of Warner Brother's most famous characters, - Bugs Bunny, Daffy Duck, Elmer Fudd and Porky Pig. After the close of Warner Brother's Studio, Chuck Jones briefly worked for Disney moving to MGM Studios where he created new episodes for Tom and Jerry and directed the classic "How the Grinch Stole Christmas." Chuck Jones established his own production company, Chuck Jones Enterprises, in 1962 and produced nine half-hour animation films for television including Rikki Tikki Tavi and The White Seal. Chuck Jones was a prolific and decorated artist whose work is still being enjoyed all over the world.

Daffy Duck is an animated cartoon character in the Warner Brothers Looney Tunes and Merrie Melodies series of cartoons. Daffy Duck was the first of the new breed of "screwball" characters that emerged in the late 1930s to supplant traditional everyman characters, such as Mickey Mouse and Donald Duck, who were more popular earlier in the decade. Virtually every Warner Brothers animator put his own spin on the Daffy Duck character, who may be a lunatic vigilante in one short but a greedy glory hound in another. Bob Clampett and Chuck Jones both made extensive use of these two very different versions of the character.

Remember every time you purchase a Daffy Duck artwork over $995, shipping is FREE in the continental U.S. and there is NO SALES TAX when you purchase outside of Colorado. We SHIP WORLDWIDE and offer Layaway for Daffy Duck and Chuck Jones art.