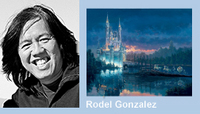 Rodel Gonzalez

Rodel Gonzalez's initiation into art, in its many forms, began at the age of 9 through the tutelage of his father, Rick Gonzalez, and his grandfather, Felix Gonzalez. He continued to study art at the University of Santo Tomas, majoring in painting, and received a degree in Interior Design from the Philippine School of Interior Design. At 20, Rodel Gonzalez expanded his artistry into music field as the founder, lead singer, and songwriter of Side A, a band that is still active and popular in the Philippines. In 1994, he followed a new calling as a minister, teaching and serving others.

Even through two different careers, Rodel Gonzalez still maintained his connection with art by doing commissioned portraits, murals, and sketches for friends and acquaintances. In 2002, he and his family moved to Hawaii, where he began pursuing his art in earne st. With inspiration and encouragement from his brother, Rudolf Gonzalez, and his cousin, Roy Tabora, Rodel has found new energy and passion for his art. In December of 2007, after 5 years of living in the beautiful island of Oahu, Rodel Gonzalez and his family began a new chapter in California as his new residence.

Rodel Gonzalez displays this energy and passion with every brushstroke onto the canvas. With his keen eye for subtle contrast and attention to fine detail, his paintings evoke a fresh perspective and a new appreciation for life's captured moment.

Remember every time you purchase Rodel Gonzalez artwork over $995, shipping is FREE in the continental U.S. and there is NO SALES TAX when you purchase outside of Colorado. We SHIP WORLDWIDE and offer Layaway for Rodel Gonzalez art.