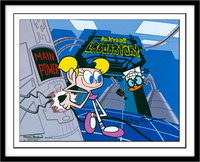 Dexter's Laboratory (Dexter's Lab for short) is an American animated television series created by Genndy Tartakovsky. It was produced by Hanna-Barbera Cartoons for Cartoon Network from 1996 to 1999, and by Cartoon Network Studios from 2001 to 2002.
The original pilot episode for Dexter's Lab appeared as the second of Cartoon Network's World Premiere Toons (later called The What a Cartoon Show); the series was the first spin-off from that anthology program and Cartoon Network's first all-original program. The show aired in the United Kingdom in the spring of 1997, and half-hour compilations began to appear on Cartoon Network TOO, a Cartoon Network spin-off channel. It began airing on Boomerang in 2006. Directors and writers on Dexter's Lab included Genndy Tartakovsky, Rumen Petkov, Craig McCracken, Seth MacFarlane, Butch Hartman, Rob Renzetti, Paul Rudish, Mark O'Hare, John McIntyre and Chris Savino.
Remember every time you purchase a Dexter's Lab artwork over $995, shipping is FREE in the continental U.S. and there is NO SALES TAX when you purchase outside of Colorado. We SHIP WORLDWIDE and offer Layaway for Dexter's Lab art.