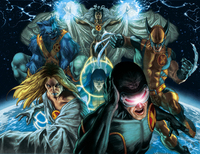 Simone Bianchi was born in 1972 in Lucca, Italy. He is one of the most accomplished comic artists today and has won several awards including "Best Comic Writer and Artist of the year" at the 2005 Comic Convention in Rome. He has collaborated with the most important Italian publishing houses, like Bonelli, Phoenix, Comic Art, and Marvel Italia. Some of his important works include a b/w episode of Conan the Barbarian, various covers for the magazine Wiz (F4 and Spiderman), various painted CD covers for heavy metal bands like Vision Divine and Labyrinth. His most famous work includes Spiderman, Batman, Wolverine and X-men. He has also collaborated on several movies, videos and book covers. He also teaches at the International Comics School in Florence.
Simone Bianchi's style is distinguished by his use of ink wash or watercolor halftones, in rendering his work, a non-traditional technique by mainstream American standards.
Remember every time you purchase a Simone Bianchi artwork over $995, shipping is FREE in the continental U.S. and there is NO SALES TAX when you purchase outside of Colorado. We SHIP WORLDWIDE and offer Layaway for Simone Bianchi art.