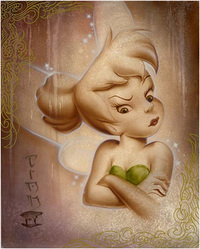 Noah's original Disney character portraits, crafted in his signature Asian-influenced, monochromatic paint style, are proving to be extremely popular among collectors of Disney Fine Art. He carefully renders the composition first, and then over-paints with more exuberant effects. "I like to mix photorealism with drips and texture. It contradicts itself and works to the very end the organic and natural contrasts beautifully with the structure of the photorealism."
Growing up in Orange County exposed Noah to one of his greatest artistic influences, Walt Disney. "I spent my days as a child wandering Main St. in Disneyland enjoying the magical world Walt Disney created," explains Noah. " I have been blessed with the unique opportunity to create art that helps carry on the legacy and heritage of Walt Disney's dream. My goal is to continue to impact the lives of both young and old with the magic I have been so fortunate to take part in."
Remember every time you purchase Noa artwork over $995, shipping is FREE in the continental U.S. and there is NO SALES TAX when you purchase outside of Colorado. We SHIP WORLDWIDE and offer Layaway for Noah art.