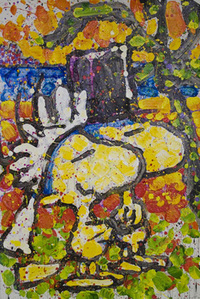 Tom Everhart

Tom Everhart will be in Denver for an exhibition and opening July 19th & 20th!
For more information: Please Click Here

Tom Everhart's art is distinguished by explosive, dazzling color and expressionistic imagination. Tom Everhart's fine art has been produced in close connection with cartoonist Charles Schulz and his comic strip, Peanuts, their relationship spanning over 20 years.

Tom Everhart is the only fine artist authorized to depict the characters made famous by Charles Schulz, faces and forms that are known and loved the world over. Tom Everhart's stunning, high-voltage renderings of Snoopy, Charlie Brown, Woodstock, Lucy, and the rest have been exhibited in museums around the globe. They've even inspired a new genre: Expresstoonism. Tom Everhart's vision takes the lovable Peanut's drawings to an entirely new level.

Don't forget we have free shipping on all your Tom Everhart orders over $995 and no tax outside of Colorado. We also offer a layaway program so you can reserve your own Tom Everhart piece today!